I wanted to try Magicalogia (マギカロギア) for quite a while and finally had the chance to play thanks to a friend's daughter who ran a game for my wife and I. It was a game of many firsts– while it was the first time for me playing Magicalogia, it as my wife's first time playing a TRPG at all. We were originally going to do a two person game, but the scenario in question worked better for two players plus the game master, so my wife volunteered to join in.
After briefly scanning the scenario book "Tasogare", the GM decided on the "Call" scenario. Tasogare is a collection of scenarios, some of which have been published in other sources and some that are new. One thing that impressed me with the book was being able to run the scenario, including character generation, without having preparing beforehand. Also, the guide to the scenarios breaks down the number of players, their level, whether they can be played with only the starter book, an outline, and the author. Adventure Planning Service provides a PDF with that overview as well.
Magicalogia works with small handouts for NPCs, so after we decided on the scenario I went to the convenience store and copied the scenario handouts from the book, as well as some extra character sheets. The GM then cut out the handouts, skimmed the scenario, and we began making our characters.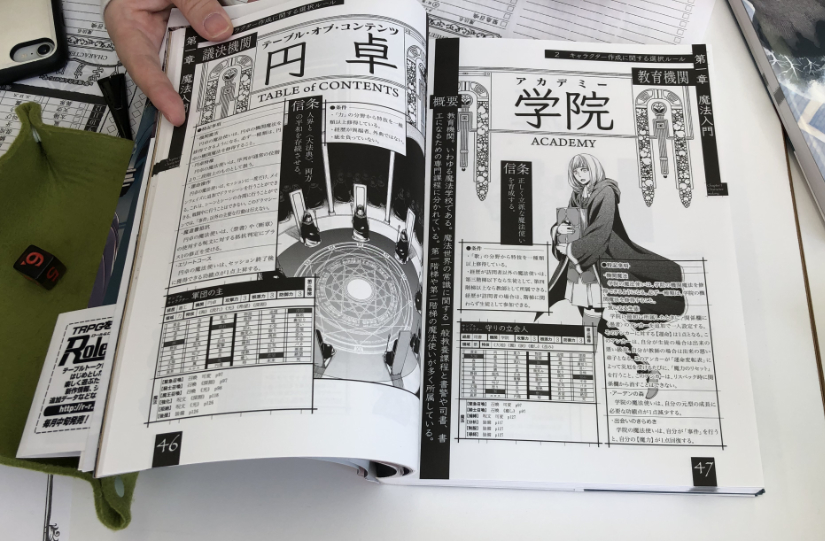 Character Making
We decided who would be character 1 and 2, with the character number affecting certain parts of the story. For example, if character 1 investigates, the secret may unfold differently, such as involving combat. On the other hand, if player 2 investigated, that combat could be avoided.
My wife seemed to really get into character making and decided on Shiku, a 2189 year old Outsider whose cover is a baker of Baumkuchen. Specializing in Star magic, her true form is that of a phoenix.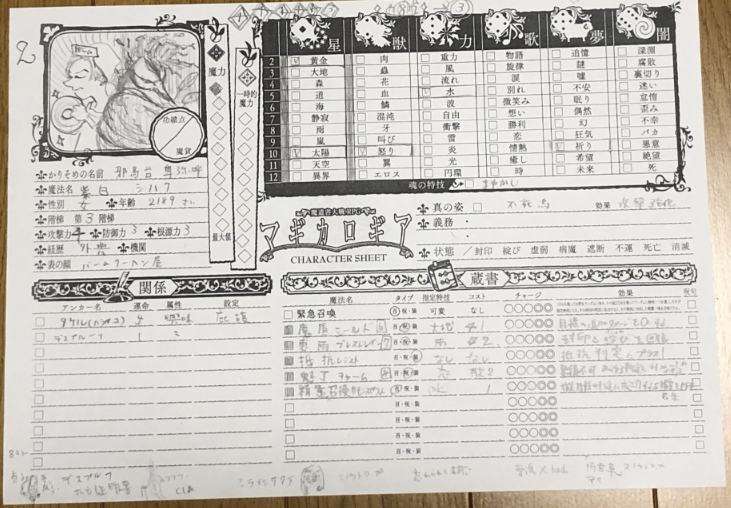 I ended up making a Librarian whose cover is that of a used bookstore owner, "Bando Ajiro". The names and similar details were determined by rolling on various charts, which was kinda fun in itself. Randomly determining Bando's true self, the chart showed that it was an infinite set of mirrors. Riffing on his circular glasses, I decided that when manifested the lenses would turn to an infinite array of circular mirrors. Bando's primary magic was Dreams.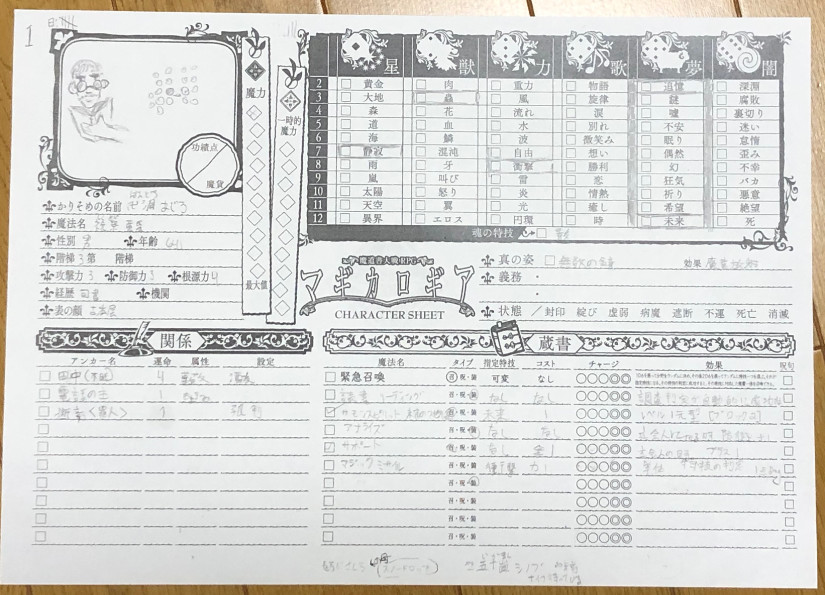 With Bando being 641 years old and Shiku 2189, we had a few years of experience between us. With our characters in hand, it was now time for the intro scenes.
Intro Scenes
Shiku ran into someone on the street, who confused her with Bando, and warned her not to get tangled up with the investigation. This led to the "Deathproof" Anchor to be added to her character sheet and the NPC card added.
My character got a phone call from an anonymous caller. Bando could vaguely place the caller's voice, but couldn't remember who it belonged to. The caller asked Bando to investigate the incident at the food court. This led to the "Food Court Incident" card to be placed on the table and the "Caller" Anchor added to my sheet and an NPC card of the same name was placed on the table.
Confused by the interaction on the street, Shiku came to Bando's used bookstore to discuss the issue. With our characters now together, we were off to the main phase, which consisted of five Cycles, one for each in-game day.
Main Phase
Bando had an investigation speciality that allowed automatic successes, so I focused on investigating characters. My wife, on the other hand, focused more on direct confrontation and combat.
I went to the food court to investigate what had happened there, and with the automatic success Bando's ability brought, found out about the ghost of a girl that died there. The automatic success was cool, but also felt a bit anticlimactic and that it prevented the scene from developing as fully as it could have. That could also have just been because it was my first time and I didn't develop the scene as much as I could have.

Shiku decided to rumble with a Bibliomania guy (non-Codex aligned mages) by the name of DeathProof that had first approached her on the street. As described in my post about the starter book, combat is handled by "Plotting" attacks with dice, rather than randomly rolling. Each character secretly chooses numbers on a number of dice equal to their Combat ability. They then reveal the numbers they chose and dice with the same number cancel each other out. Remaining attack dice indicate whether the attack was successful or not, and uncanceled defense dice allow the charging of mana. It was a tough fight, but she prevailed.
Day 2
More investigation. We found out the mysterious caller was the ghost of a girl Sakura. Her mother "Snowdrop" was a Codex magician that disappeared fifteen years ago while attempting to Collect the Bane "Eternal Sinner." Upon further scrutiny, it turns out she died while pregnant with her daughter, but used her Anchor to save her daughter's life. Her current resurrection is at the whims of the "Eternal" fragment, and she has lost her sanity.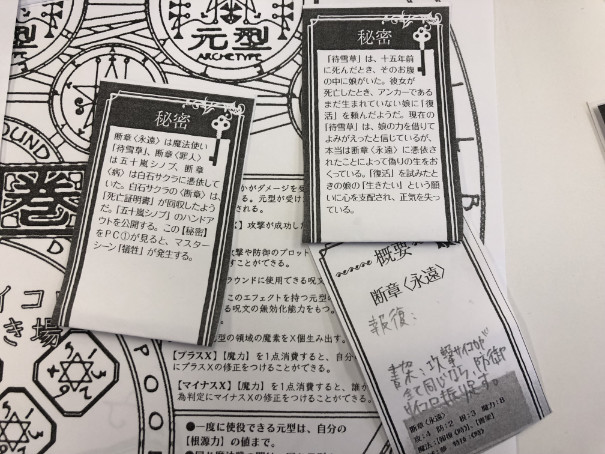 Day 3
I was low on health, haven't lost a fair amount as a Spectator to Shiku's battle, so decided to heal for a scene. Rolling on the scene chart, it was decided that it would take place in a deserted street. I chose to use "Future" as my recharge ability, thinking of how this town would change and what potential the future would hold, and that it was that future I was fighting to protect it. I succeeded on this check and finally had a good magic health score.
Day 4
While Shiku investigated, Bando fought with the crazed serial killer Igarashi Shinobu. Originally put to death fifteen years ago for a murder committed twenty years ago, he's back from the dead in a leather jacket. We found that his spirit is possessed by the Fragment "Criminal" and was tasked with protecting Sakura from magic users. After defeating this Fragment, I was able to take one of its abilities as a prize. I ended up taking its ability "Single Sword" that increased damage, and by doing so, denied the Bane access to it in the Climax phase.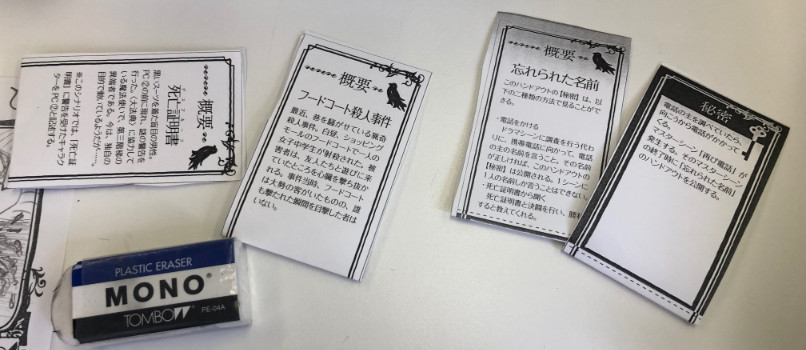 Day 5
With both of us in need of healing, we decided to rest up. My wife rolled on the scene chart and decided to come to my character's book shop to read and refresh. Funny enough, I rolled the same scene on the chart, so ended up at her bakery, eating one of her world famous Baumkuchen. Five days had passed and it was now time for the climax scene.
Climax Phase
We hadn't defeated all of the Fragments, so the Bane was harder than if we had. This ended up being a long scene that dragged on quite a while. Neither my wife's nor my character were built for combat, so our damage output tended to be low. Also, our abilities tended to be more support related, so we quickly ran out of magic to charge with our uncanceled defense dice. In the end we barely won.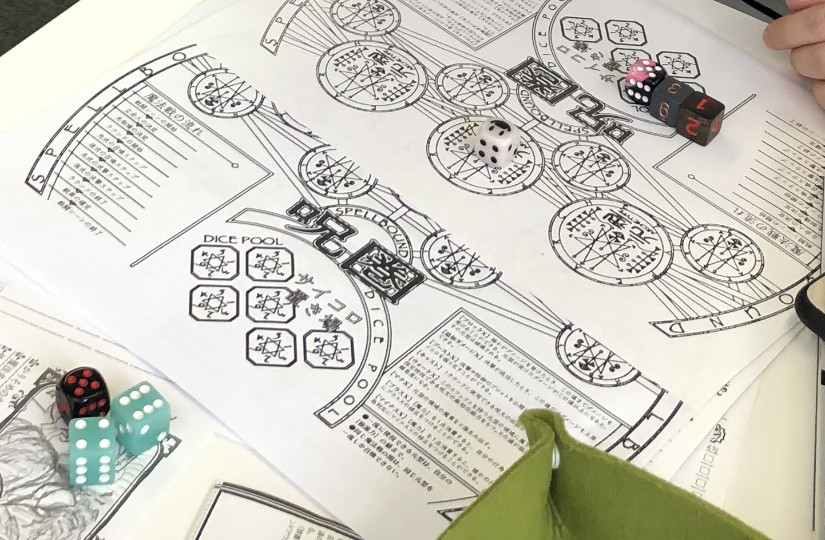 Epilogue
The ghost girl Sakura came back as a real girl and asked to become Bando's apprentice.  In response he pulled the book "An introduction to magic" from his desk and handed it to her, saying "Start with this."
Thoughts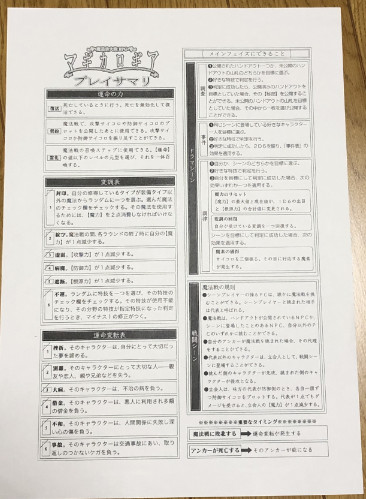 I had a lot of fun with the system. My wife had fun as well, but it ran a bit long for her and her initial enthusiasm tapered off a bit. Talking to our friend's daughter afterwards, in hindsight, we should have taken more combat abilities and the heal spell so that we could have avoided some of the healing scenes and focused more on the investigation. The low health rolls also didn't help.
I really enjoyed the game world and thought its mechanics were interesting. Using the Dice Fiction system themed for magic worked well, and I enjoyed the guided freedom of it. Rolling for the scene and then playing off of that was an interesting first for me. It worked well in providing structure while still allowing creativity.
All in all, I would definitely like to play Magicalogia or other Dice Fiction games again.