With the Japanese edition of Dungeons and Dragons 5th edition coming out this Autumn, there has been an increased interest in D&D. We've had a number of new players, or those returning from older editions, stop by the Wednesday night Adventurer's League as well.

There's a Japanese language stream of D&D on Friday nights that just recently restarted after a hiatus called Friday Night Adventurers (金曜夜は冒険者). It's structured in a way that also teaches a bit of the system. There is a natural feel to it, like we're just joining in and watching a group play instead of watching a more theatric performance. While enjoyable to watch for veteran players, I imagine this style is especially helpful for beginners and those who have an interest in seeing how a real game plays out. Hopefully this and the Japanese edition will increase the number of players in Japan.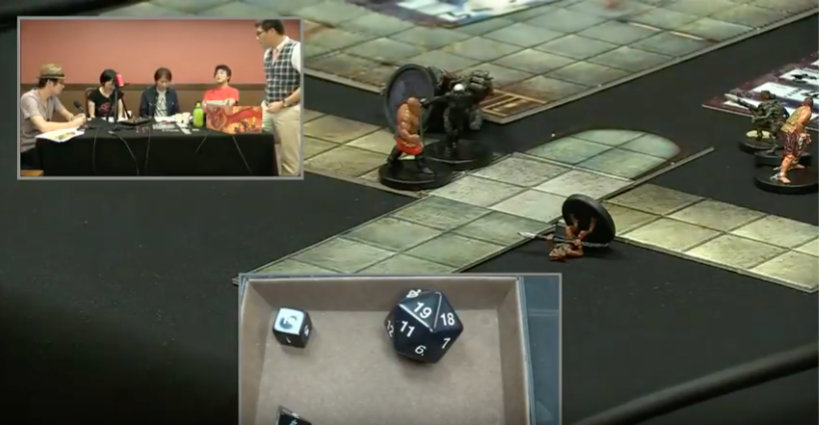 Having seen first hand what goes into producing a stream when I joined my buddy BerlingsBeard's stream a few times, I was impressed by the use of multiple cameras to show the players, map, and dice rolls clearly, and that they also used video overlays. The embedded video below starts at the player and character introductions (30:30).
Part 1
They were extra nice and provided links in the video description (might need to expand) that allow you to jump to a specific section. Here's a quick translation if you're curious to see different parts:
0:00 準備時間、雑談いろいろ

Prep time and various small talk

30:30 オープニング

Opening

33:30 自己紹介&キャラクター紹介

Player and character introductions

41:45 セッション開始、オープニング、導入

Session start and introduction

1:00:00 脱出を図る冒険者たち、能力値判定について

Adventurers planning an escape; about ability checks

1:19:00 牢獄を出て。見張りのコボルドを発見

Out of the prison. Discovering kobolds keeping watch

1:26:00 襲撃しよう! イニシアチブ判定、混戦

Attack! Initiative rolls and melee

1:38:25 辛勝、傷の手当て

A narrow victory and treating wounds

1:43:05 明らかになるゼーラの正体、だが今は脱出だ

The true form of Zera becomes clear, but it's time for escape

1:59:00 装備回収、反撃!

Collecting equipment and a counterattack!

2:11:40 コボルドの頭領を撃つ!

Fighting the kobold boss

2:20:45 宝物!

Treasure!

2:26:20 エンディング

Ending

2:29:20 感想会+おやつ

Feedback and snacks

2:36:40 告知事項+質問応答など

Announcements, Q&A, etc

2:50:20 Daydreamイベント告知+雑談~終了

Daydream event announcements small talk
In the announcements, they mentioned a Wednesday night stream put on by Daydream Cafe on Nico Nico. Watching streams that have ended on Nico Nico requires a premium account.
Part 2 and beyond
Part two will be live September 15th 7:30 PM JST. While they've started up their D&D stream again, their Youtube channel also has a lot of other gaming videos: Warhammer RPG, older editions of D&D, and board games.