Following the look at Warlock magazine, we'll go back to August 1994 and take a look at volume 2 of RPG Dragon (RPGドラゴン). Released as a bimonthly supplementary magazine to the monthly Dragon Magazine (ドラゴンマガジン), it sold for 800 yen at the time. I ordered it from Suruga-ya along with another magazine with a supplement about Magicalogia. Based on the insert advertising RPG Dragon, the main magazine sold for 600 Yen.
What caught my eye, was the list of games it focused on: Sword World, Battletech and Mechwarrior, Shadowrun, Monster Maker, Dragon Half, and Paradise Fleet, among others.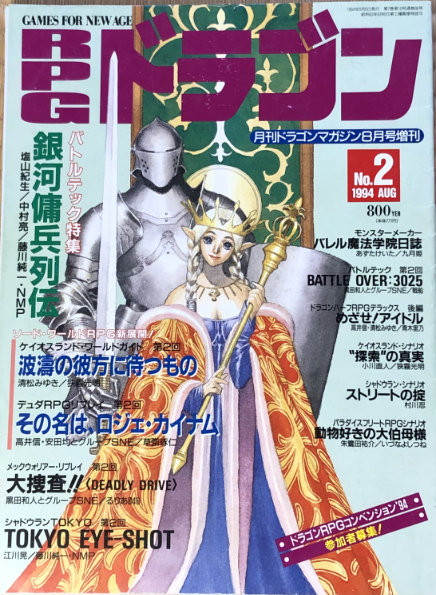 The page direction follows the traditional style of right to left, while modern game magazines are usually left to right. There's a lot of content, and the order of it tends to be mixed, so rather than showcase in page order, I'll list it by category.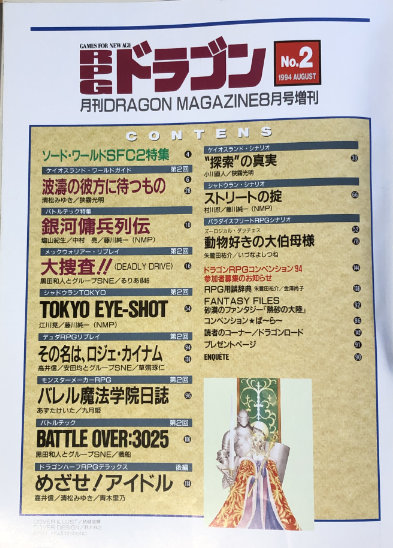 Sword World
Following the table of contents is a full color two page ad for Sword World SFC2 for the Super Famicon. I hadn't realized that there were a number of video adaptations of it, but it makes sense. The description of the game really emphasizes the rolling of dice and how it follows the exact rules of the table top game. There is also an accompanying novelization of the game.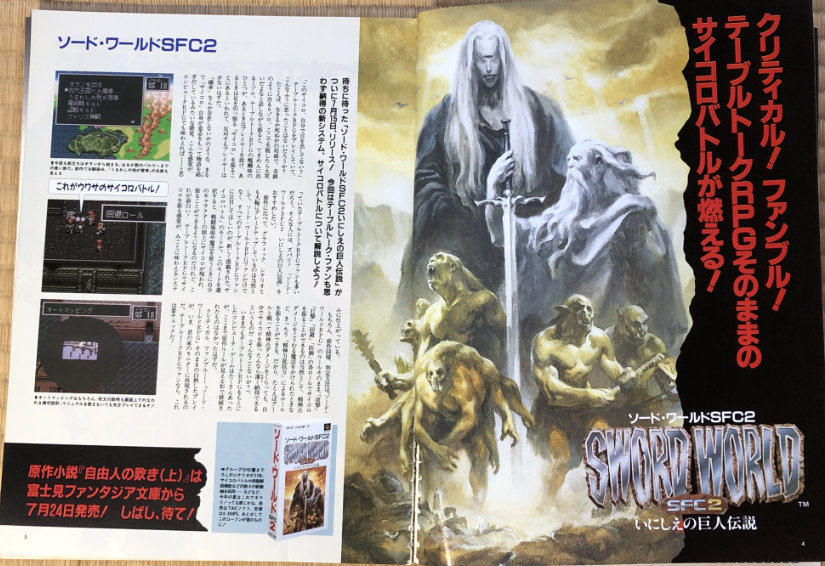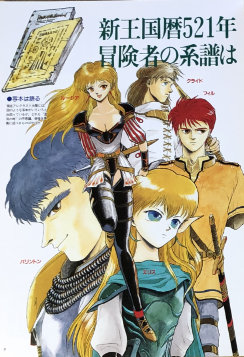 There are a number of Sword World articles of varying length, but most focus on the new Chaos Land. Chaos Land is a continent to the West of the central continent of Arecrast. One article gives background on why adventurers would cross the sea, and there is a sample scenario included.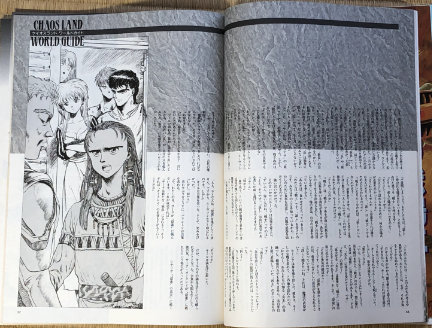 BattleTech
I was surprised by the amount of BattleTech content in this issue, but then remembered that it was also localized by Group SNE. The articles begin with an introduction to three famous mechwarriors of the galaxy and their affiliations: Ian McKinnon, Natasha Kerensky, and Grayson Carlyle. The title is actually "Mercenaries of the Galaxy", but the bio for Ian McKinnon states he "…was not technically a mercenary.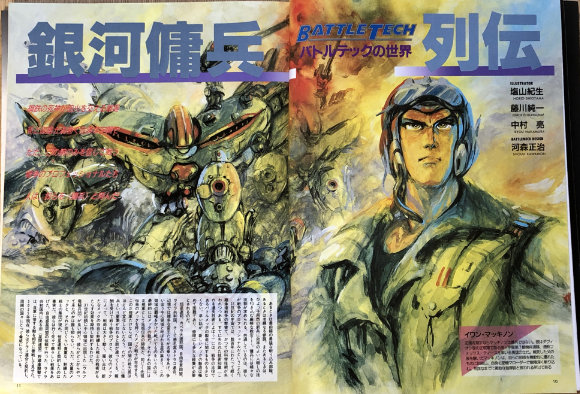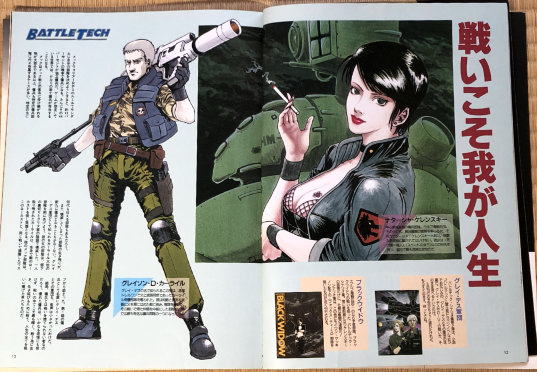 Replay
It then continues with a rather lengthy MechWarrior replay titled "Deadly Drive". The top left showcases a BattleTech novel.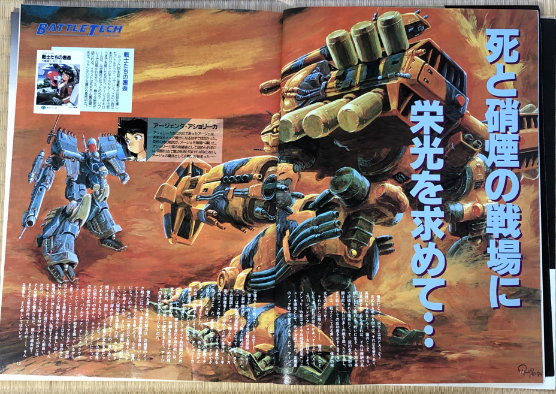 Battle Over: 3025
Coming back to BattleTech again on page 106, it covers a battle using fan submitted custom mechs. Given the background of the Lyran Commonwealth testing new mech designs, it is formatted much like a TRPG replay, but for a game of BattleTech.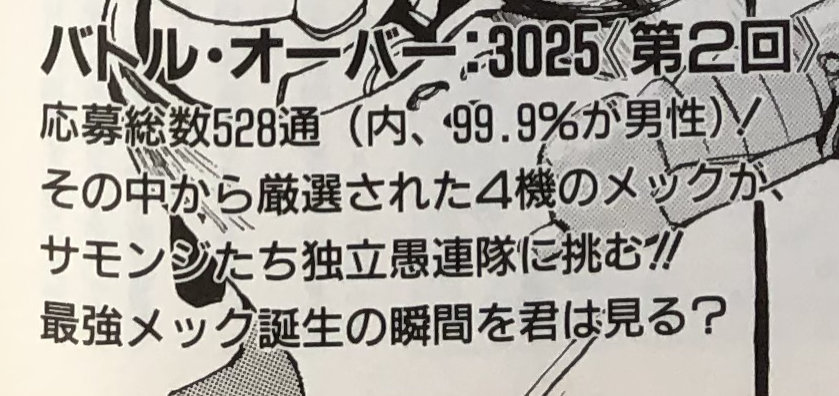 The magazine ran a contest for mech submissions, with 528 total receive, and 99.9% were from male readers. From those, they chose four to test.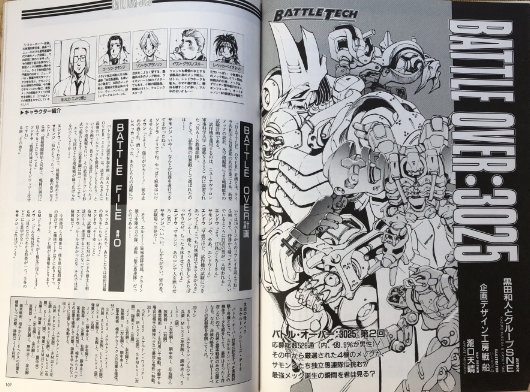 What's pretty cool is they created custom illustrations for the submitted mechs, and printed the submitter's name and prefecture.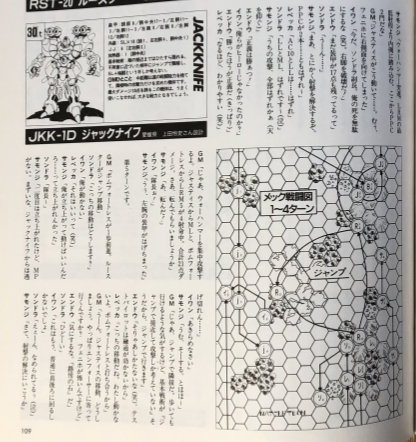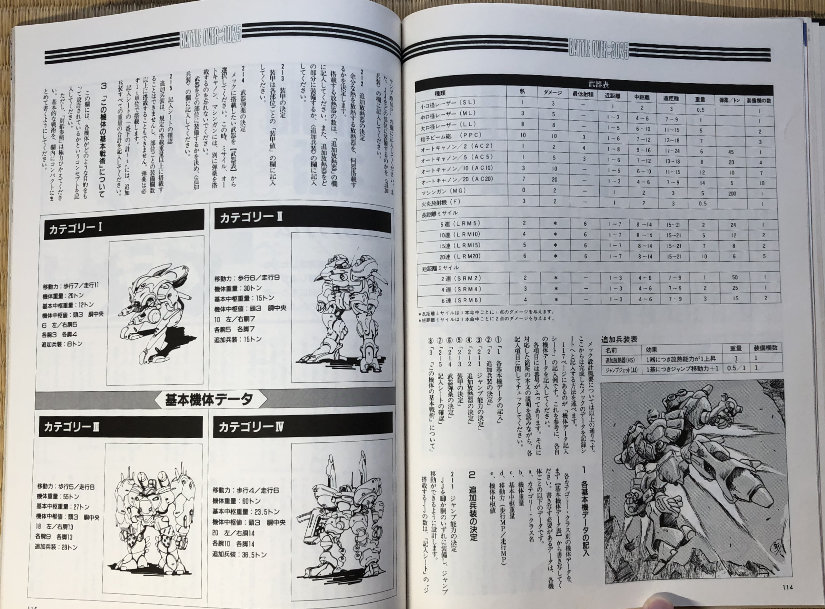 Finally at the end there is a submission form and instructions for submitting your own custom mechs for consideration.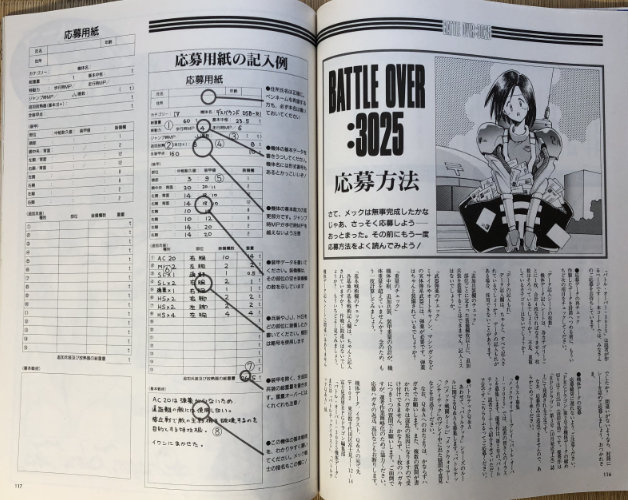 Shadowrun Tokyo
Following the FASA tendencies of this issue, there are two articles about Shadowrun. The first is an introduction to Shadowrun Tokyo, with various districts described. The second article is a beginner scenario for two players.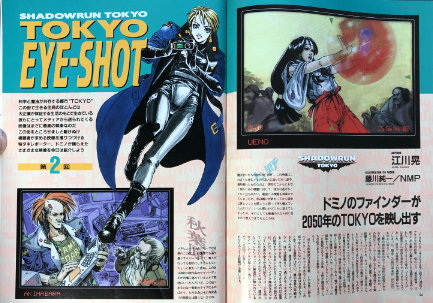 Paradise Fleet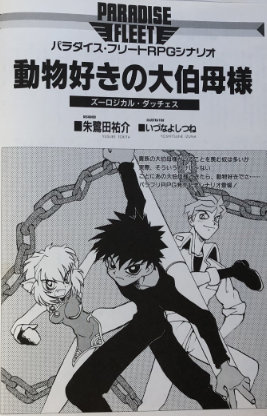 A comedic space adventure, there is a scenario to accompany the publication of Paradise Fleet.
Dragon Half
There's a replay for the Dragon Half TRPG, which is based on the manga of the same name. The TRPG was designed by the same system designer of Sword World Miyuki Kiyomatsu.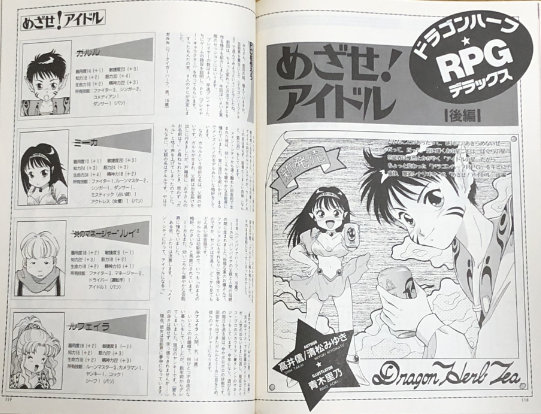 The Goods
Scattered throughout the book are various ads and new product news. Below are a few of them: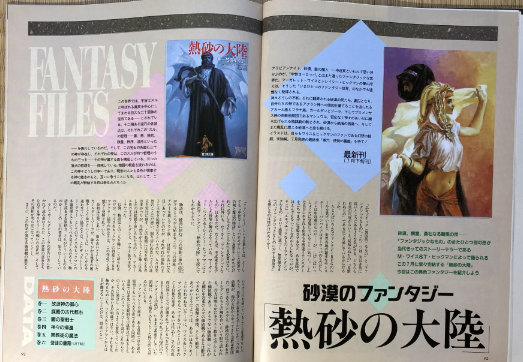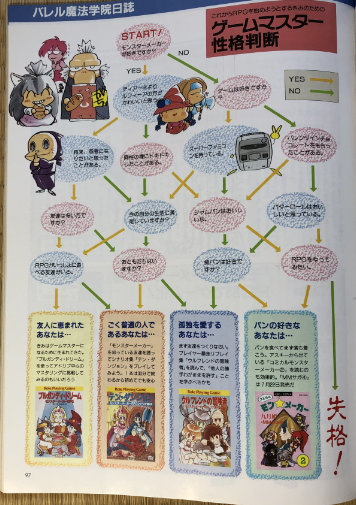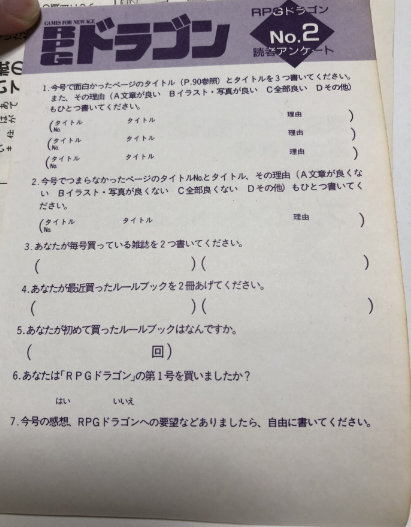 While first flipping through the magazine, I had skimmed the title of "RPG Dragon Presents" and thought it was a product presentation. Giving it a read, it's actually a contest to receive gifts from the magazine. Readers can submit a questionnaire with a 50 yen stamp and specify their desired gift from a list of 18. The following page has a color spotlight on seven of those.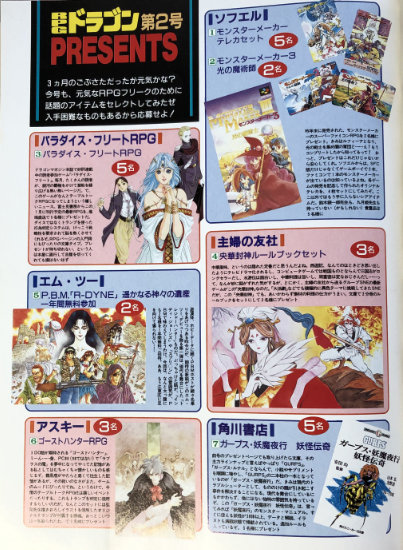 Circles and Words
It was fun browsing the convention and circle (group) listings, which are divided by region. The general format is describing the games, schedule, and contact address for the group.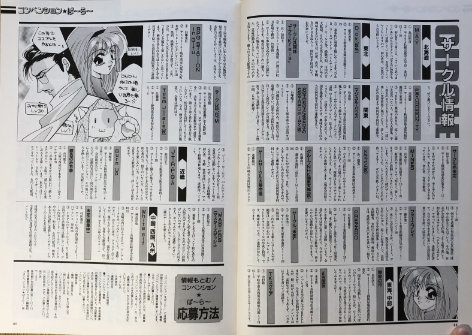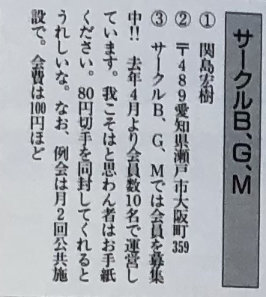 Circle B, G, M is one such group from Aichi prefecture that was recruiting. They had ten members since April last year. If you're interested, please send a letter. We'd be grateful if you include an 80 Yen stamp. We meet regularly twice a month. Membership fee is 100 Yen.
There's an excerpt of a TRPG vocabulary dictionary that also asks for submissions.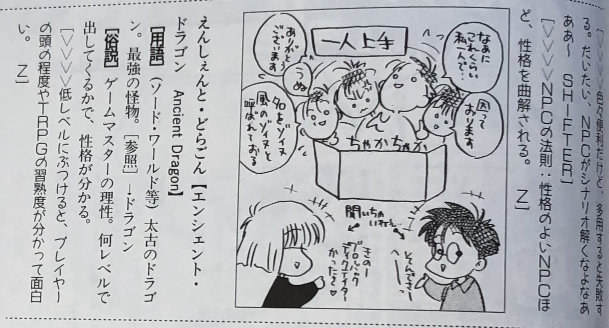 Afterwards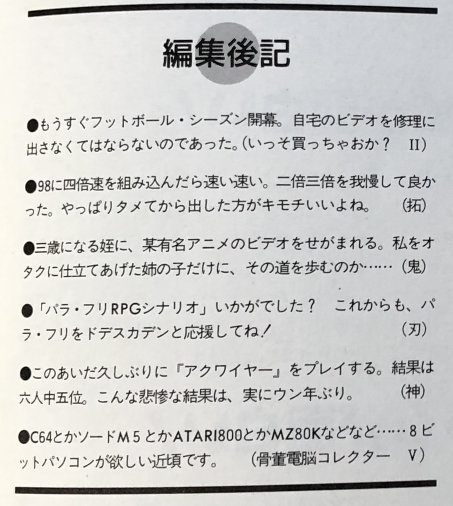 On the credits page nestled next to the preview for the next issue is a small Editor's Postscript box. I believe the six lines each correspond to an editor and their content fairly random. One mentions football season starting, while another describes the 8-bit computers they are pining for. Only one of them was related to the issue: "How did you like Paradise Fleet? We'll be publishing more of it."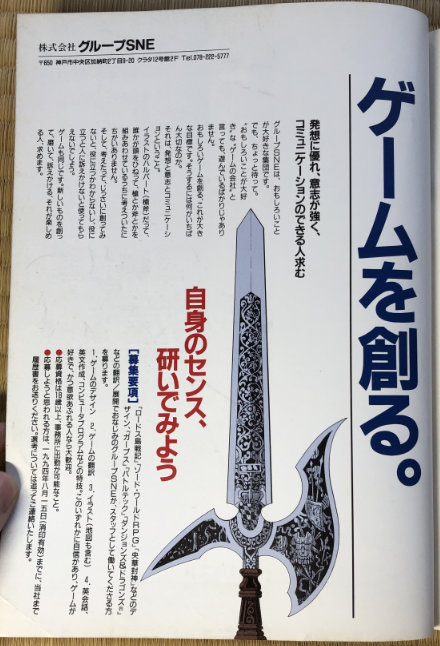 The back cover is an ad for Record of Lodoss War PC games by Humming Bird Soft.