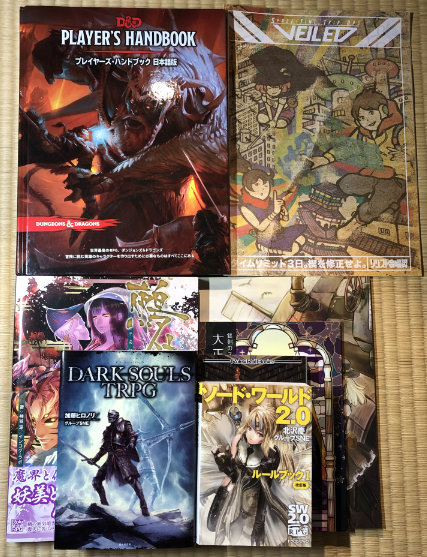 The most common size for American TRPGs is 8.5″x11″, but that size is rare in Japan. In fact, it's only really used for translated editions of western games. Instead, a variety of smaller paperback sizes are the norm here. So being a bit of a bibliophile, I thought it'd be interesting to take a look at the formats and pricing of TRPGs in Japan.
Smaller Sizes
The smallest is A6 (105mm x 148mm), which is also used for small paperbacks in Japan. Sword World consciously sticks with this size for its low price point (¥900) for 480 pages.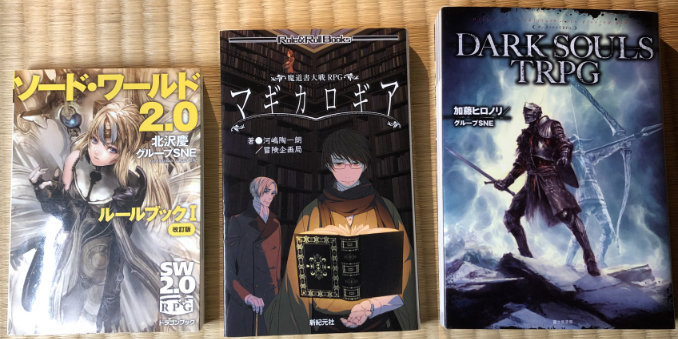 Commonly used for manga, B6 (128mm × 182mm) is used for Dracurouge, Silver Sword Stellar Knights, and the Dark Souls TRPG, among others. Dracurouge is ¥1,600 for 285 pages (black and white with a few color); Stellar Knights is ¥1,980 for 352 pages; and Dark Souls is ¥1,400 for 304 pages.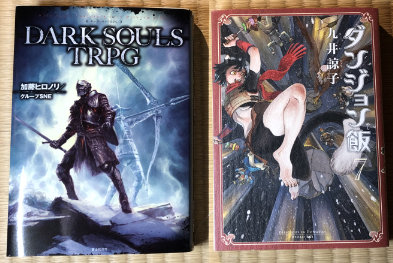 There is a narrower size used by books like the first edition of Magicalogia called New Book Format (新書判) or B40 (105mm x 173mm).  The older edition of Magicalogia is 271 pages for ¥1,400, but it has been replaced by a new larger format edition.
A5 (148mm x 210mm) which is often used for indie manga, is also sometimes used for indie TRPGs as well. Out of the three books of this size that I own, two are by the same authors, who also pen manga. The other is a 48 page supplement for Stellar Knights that costs ¥1,300.
Midsized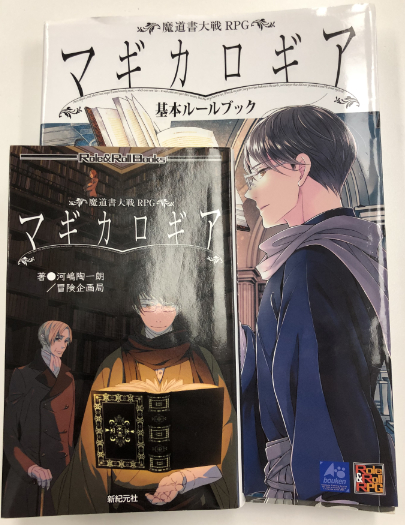 One of the most common sizes is JIS B5 (182mm x 257mm), which is used by both indie and traditional publishers alike. While some TRPGs are first printed as B5, others, like Magicalogia, are first printed in a smaller format with several supplements that are later collected into a larger format B5 premium edition.
For indie books of this size, pricing and pages vary, but around ¥1,000 yen is common. Three books I happen to have handy are 36 pages for ¥750; 65 pages for ¥1,000; and 88 pages for ¥1,000. Another book I've had my eye on, but don't own yet, is ¥2,000 for 112 pages. In all cases that I've seen, the cover does not have a jacket.
Books of this size by traditional publishers tend to be much longer and with dust jackets. Shinobigami (¥3,800 for 256 pages) and Nuekagami (¥4,500 for 303 pages) are two such examples.

And Larger Still
Hard cover TRPG books are uncommon in Japan, and are predominately translations of foreign books like Dungeons and Dragons. Domestic books, even the premium collected editions, are softcover.
As you can see from the picture below, the D&D Player's Handbook is larger than the majority of the books. However, the taller A4 format used by the Gundam RPG from the 90's and an indie supplement peeks out from beneath it. The D&D Player's Handbook is ¥6,000 for 320 pages.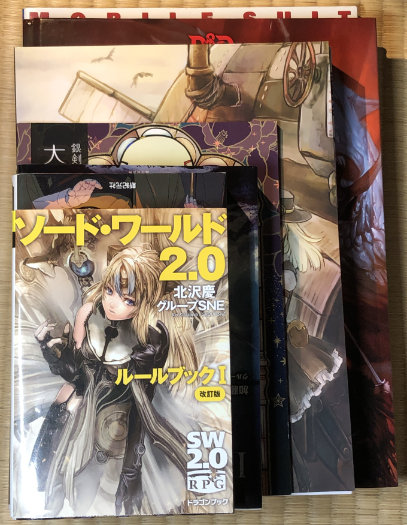 Pricing
There was a conversation about pricing of TRPGs on Twitter that prompted me to add pricing details to this post. One Tweet that caught my attention was by the director of game design at Paizo Jason Bulmahn, who tweeted that the Pathfinder core rulebook might have cost $80 if not for economies of scale.
The games with larger print runs can afford to put out a less expensive book, relying on the economy of scale to help make ends meet… but I am starting to think that maybe we shouldn't. Maybe Pathfinder should have been $80 for 640 pages (not that I get to decide).

— Jason Bulmahn, Game Designer (@JasonBulmahn) April 28, 2021
His estimate surprised me because the Japanese translation of the Pathfinder first edition core rulebook is ¥9,000 (roughly $80). The Japanese translation of Eclipse Phase is ¥7,500 yen and each of the core D&D 5e books is ¥6,000. Furthermore, there's usually not much of a discount available, unlike buying through Amazon or other online retailers overseas. You'll sometimes find 10% off, but the deep discounts of 40% are rare.