The last few years have seen a proliferation of digital editions of TRPG books and related tools in Japan. While many books are still physical only, there's a growing number of both indie and commercial games with digital editions available.
While several sites focus on games and fan made content, many that originally focused on digital comics have extended their selection to include TRPGs. The sites focused on gaming products tend to have more categorization and filtering specific to games. They also usually provide the content as PDFs and/or zip files of contents instead of EPUBs with DRM or browser/app based viewing.
There are a lot of options, but I usually start my search at Booth and Conos, and then branch out to other services if they don't have the content I'm looking for.  Many publishers list on multiple sites, and while the pricing is uniform, their offerings will sometimes differ.
In terms of pricing, physical and digital editions of commercial games are often the same price or only a slight discount provided. As an example, the Japanese edition of Cyberpunk RED costs ¥7,200 for either physical or digital, while the English edition costs $60 for physical and $30 for digital. Indie games often have a bit of a discount. The indie game Praise for Angels, for example, costs ¥1,800 for the PDF and ¥2,900 for the print edition. Some services provide point systems, often with sales that increase the points received for a purchase while leaving the purchase price unchanged.
A word of warning for those hoping to use built in dictionaries: from what I've seen, text is not selectable in most rulebooks except those sold as PDFs. Replays formatted like a novel that I've read on Kindle have had selectable text and the dictionary worked, but I haven't tested replays on other services. PDFs generally don't have this problem, though sometimes text selection can be odd.
Overview
The following is a quick overview of each service that links to a more detailed section. Listings are alphabetical.
| Service | Product types | Viewing |
| --- | --- | --- |
| Bookwalker | Commercial | Browser, App |
| Booth | Indie | Download |
| Conos | Indie, Commercial | Download |
| DLSite | Indie, Commercial | Download |
| DMM | Commercial | App, DRM Download |
| Honto | Commercial | App, DRM Download |
| Kindle | Commercial | App, DRM Download |
| Talto | Indie | Browser, Download |
Services
Bookwalker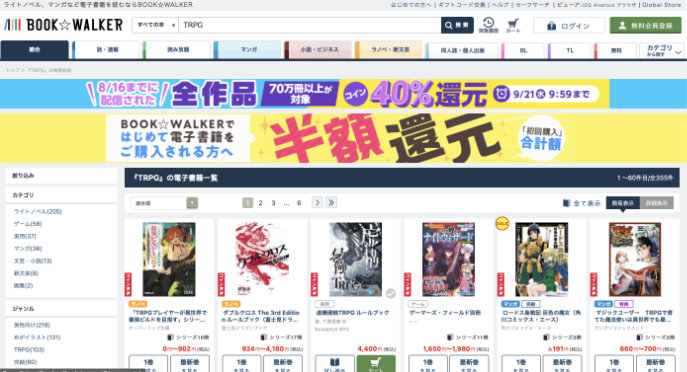 Part of the Kadokawa group, Bookwalker sells both physical and digital editions of commercial books. Digital books are accessed via their website or custom applications. I bought Silver Sword Knights through them, and the website and iOS application are easy to use. Text is not selectable in the book I tried.
Website: bookwalker.jp/
Booth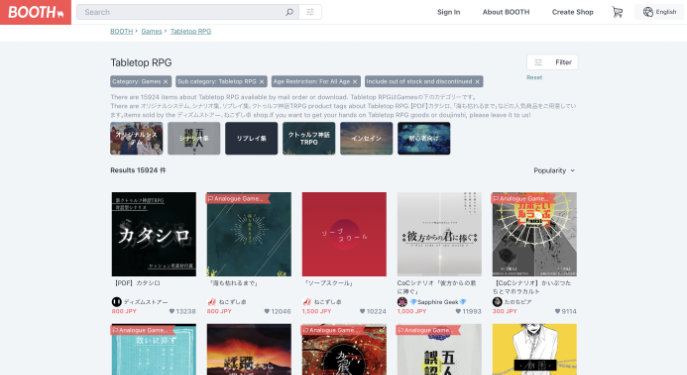 Focused on creator projects of all types, not just games, Booth sells both physical and digital products. They closely follow the convention cycle and have tags for different events (eg games released at ComiCon 100, Fall Game Market 2022). I've purchased both physical and digital products through them. Digital products are downloadable.
Website: booth.pm/en
Conos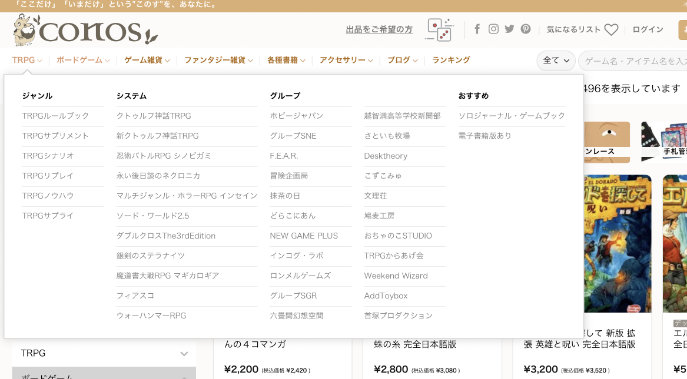 Conos specializes in games, both board and TRPG, commercial and indie, with great categorization. Includes commercial gamers like Cyberpunk Red and indie games like Praise for Angels (天使礼讃). They also provide a page with details about playing online, with links to various tools. Digital products are downloadable.
Website: conos.jp
DLSite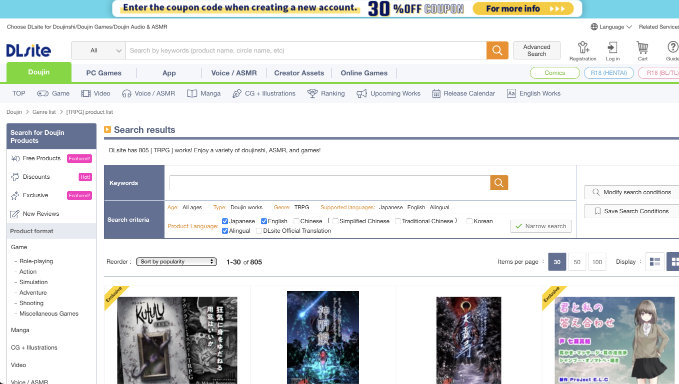 DLsite focuses on all things downloadable, and that includes TRPG books. While mainly indie, there are some commercial works like Cyberpunk Red. The file format is listed on the page for the item. I've purchased one rulebook from DLSite, and am able to both view it in the browser and download the PDF. There are sometimes sales (like the summer sale), so it can sometimes get books for 30% or 50% off.
Website: dlsite.com
DMM

DMM has a wide range of services, including online books. Products as marked as "online viewing" and/or "downloadable". I tested their service by buying 和風幻想RPG 不知火 using a 70% signup coupon. A DRMed EPUB file can be downloaded, but still requires their official reader. Cannot use MasterCard, and may block non-Japan PayPal accounts.
Website: book.dmm.com
Honto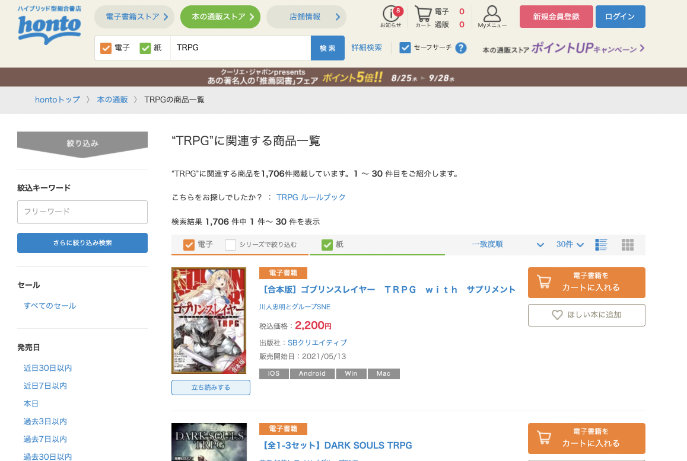 honto a variety of both physical books and ebooks. Each product shows which platforms it is viewable on. From what I could tell the products have DRM. One nice feature is some books allow you to buy the digital version for 50% off if you purchased the physical version within the last five years.
Website: honto.jp
Kindle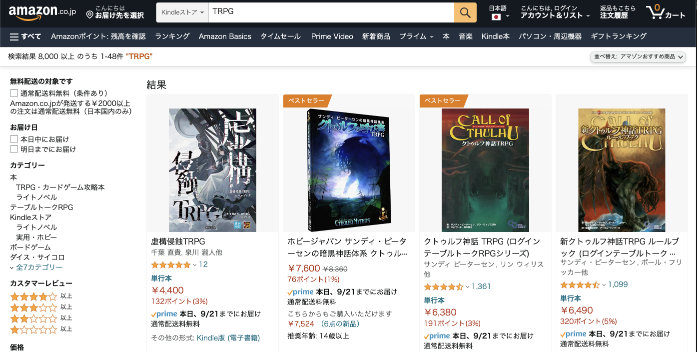 The Kindle store on Amazon Japan has commercial TRPGs, including Role & Roll magazine, as digital editions. Requires a Kindle reader or app to read.
Website: amazon.co.jp
Talto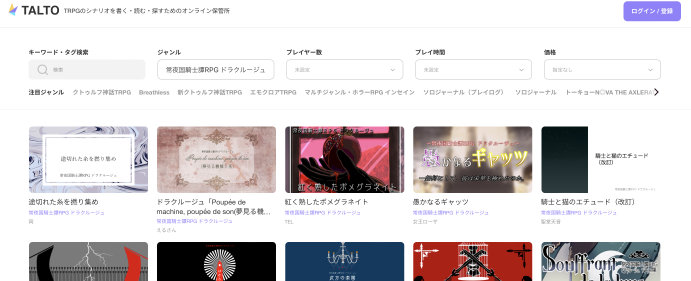 In their own words, Talto is a repository for writing, reading, and searching TRPG scenarios. Talto has a mix of free and paid products without DRM. In fact, they provide tools to read and write content directly on their website, and supplemental files can be added as downloads. The categories and search are useful. While focused on scenarios, I did spot some game systems. A solo journaling section was recently added.
Website: talto.cc